About Us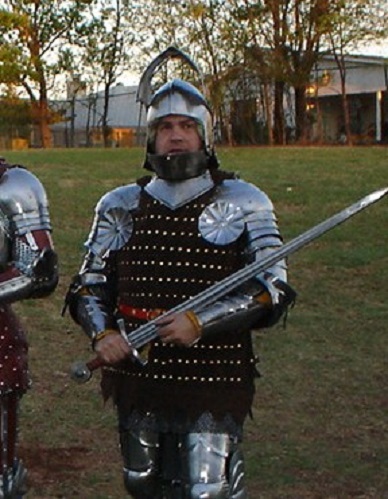 Hello Mateys and welcome to Buccaneer's Reef!
Let me introduce myself. I am ModernKnight1, the founder and main Admin for this site. I am a retired US Army Lieutenant Colonel with 24 years service. My current profession is consulting in the military technology and simulations field – I am an expert (SME) in this area, formerly a seasoned simulations and knowledge management officer, participating in hundreds of cutting edge exercises and experiments over the years and running some of the most technologically advanced facilities in the world for over a decade. In fact I ran the massive technical support effort and contract support for the second largest training center in the world for three and a half years responsible for over 3,300 military and civilian employees under me.
Video games have always been an obsession of mine and I was programming games for the first Radio Shack TRS-80s, the Apple2 and the venerable Commodore64 back in the late 70's/early 80's. I own every modern console and am as much a gamer as I am a modder. In the last couple of years I have taken up 3D modeling and am beginning to get proficient in this area as well. In short, video games are my hobby and I love my hobby. That's why I am here now. I have dabbled in video game development professionally for a short time – building teams and coming up with timelines, project schedules, GUI layouts and game storyboards. However, my creativity was either stifled or I would become disillusioned with the management team and politics (which is a large reason I retired from the military) so I moved on to just part time consulting and public speaking.
My other passion as a boy was sailing ships. I saved up paper route money for – and asked my parents for – the Pyro and Lindberg lines of plastic model sailing ship kits for birthdays and Christmas. I ended up building most of their classic ship series. Its such a pity that most of these wonderful models are not still available. Later I shifted to wood and have some masterpieces of my own that I've held on to all of these years. When I was a boy I was so obsessed with sailing ships that I won the art fairs at my school four years in a row with drawings and paintings of sailing ships. I would draw them on my work assignments and my teachers would bribe me with pristine pieces of typing paper to be received at the end of the hour if I would abstain from my doodling during the assignments. Late in my career I was diagnosed with Highly Functional Adult Asperger's Syndrome. This explains my lifelong obsession and why I still pursue it. So as you can see sailing video games bring my two passions together in an addictive concoction that I cannot help myself from indulging in.
I have been a member of other online gaming communities but only participated in one significantly. I did do a lot of work on those particular mods and helped out and advised as well. After some disagreements in the direction that community was going, I decided to start my own webpage and community.
I took it upon myself to build my own major video game mod called GOF ERAs Mod 2 (Gentlemen of Fortune, Historical Eras Module 2: The Golden Age) for Age of Pirates 2: City of Abandoned Ships. This mod (which has turned into its own full fledged independent video game) has been a labor of love that attempted to make the world much more "golden age" – getting rid of ships, characters, items and flavor that was "out of period". So this game has ships which look correct for each nationality and for the Golden Age Era which I define as (1648-1725). You will not see stuff sailing around from the War of 1812 like you do in the other GOF mods. This always bothered me as I felt like I was playing the game in a Pippi Longstockings movie instead of an authentic historical setting. The ERAS mod is expansive featuring over 600 ships from numerous resources(most reskinned personally by me), 160 Player Characters, over 600 items, and over 200 different weapons and weapon combinations. It features lower boarding decks on ships, hundreds of transition loading screens, multiple historically correct flags per nation, and control of eight ships at one time. No other sailing/pirate game has these things combined and it is far more expansive than anything Pirates Ahoy! ever did.
All of the content I contributed on my former sites can now be found here – to include my photo galleries for historic research, my historical articles and stories….and of course the latest version of the now famous GOF ERAs 2 video game running on the MAELSTROM(TM) game engine can only be found here.
So my friends, enjoy yourselves here. This site is a place where we can have a historical dialogue and discussion about our preferred and chosen media – where we can criticize current offerings and the development of others. Its a place where we can in a civilized way argue about the merits and best parts of society, culture, technology and how its simulated in a historical narrative or multi-media offering. Dissenting opinions are always welcome here.
If you can't sign up for the website it is because of Go Daddy hosting issues which are common. Go to word press and sign up for a free membership there and then sign in here with those credentials. Also if you need to get a hold of me personally to manually approve your membership or just to give me some feedback, feel free to contact me any time at modernknight1@hotmail.com

Welcome Aboard Mates!
Modernknight1

by modernknight1