Features of the Day (Page 4)
MOVIE OF THE NEXT FREAKIN YEAR and BEYOND!!!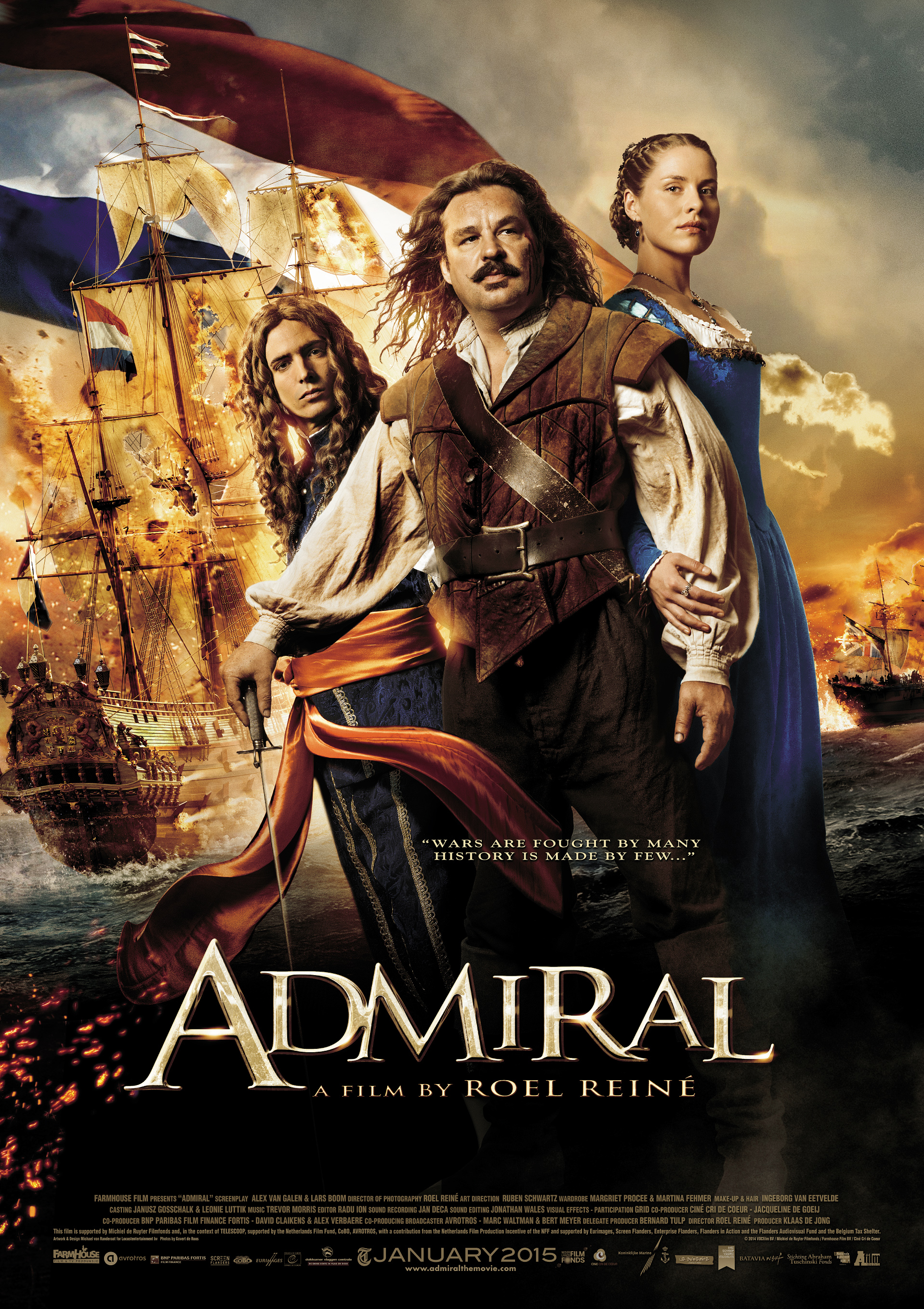 ADMIRAL
This movie – "Micheal De Ruyter" (or "Admiral" for it's US/American release) made by A-Film/Benelux in the Netherlands, IS the movie that I've been waiting for my entire life!
I can't believe someone finally made a movie about this INCREDIBLE time and this GREAT man of history! I say its about time! Below are some trailers/teasers.
The movie is due to be released in Europe on the 29th of January 2015. I haven't been able to find out about the US release yet but will watch closely and let you know when I do. I imagine this will only go out to select theaters in larger US cities. Here's the IMDb info on the movie. IMDb Michel De Ruyter I am excited that Rutger Hauer is playing Admiral Maarten Tromp. He was awesome as the adventurous knight and captain of the guard in Ladyhawke and Marten the medieval mercenary in Flesh and Blood. This role fits him at his current age.
Along with this awesome announcement I am including my article on Micheal DeRuyter once again below. In addition, I will take some screenshots and include them here of one of the 15 new characters I have been working on. You guessed it Micheal DeRuyter. For the skeptic that might say "DeRuyter in the Caribbean?" I say YES! just look at the history books. DeRuyter hunted the known English renegade Sir Robert Holmes who was responsible for the destruction of Terschelling and 150 Dutch merchant ships ("Holmes Bonfire"). DeRuyter stayed on his heels after this and retook the Guinea fortresses Holmes had seized from the Dutch after. Then across to the Caribbean where DeRuyter bottled up and destroyed the French Caribbean fleet at Martinique and bombarded the town.
In addition DeRuyter sacked and seized numerous English colonies while searching for Holmes. Half the Dutch fleet was with him on this HUGE raid on the Caribbean including his famous flagship De Zeven Provincien. The damage DeRuyter and the Dutch Confederate Fleet inflicted upon the English far exceeded the Terschelling raid.
I am proud to say that our ERAs2 game/mod portrays this particular aspect of this period in history better than any other game/or mod out there ever made….bar none…period! You can command an entire Dutch or English fleet from this time with period officers as your NPC crew and with correct looking models of both the ships and characters. Any other game comes up WAY short in this area. Watch these trailers and read about DeRuyter below. I hope some of you are as excited about this as I am. (Jumping up and down like a giddy school boy…) I will keep everyone up to date on the latest developments concerning this film – right here on Buccaneer's Reef…
EDIT and UPDATE:
Here are some additional videos of the film trailers with English subtitles….
Here's another new one!
WHO WAS THE GREATEST ADMIRAL AGAIN???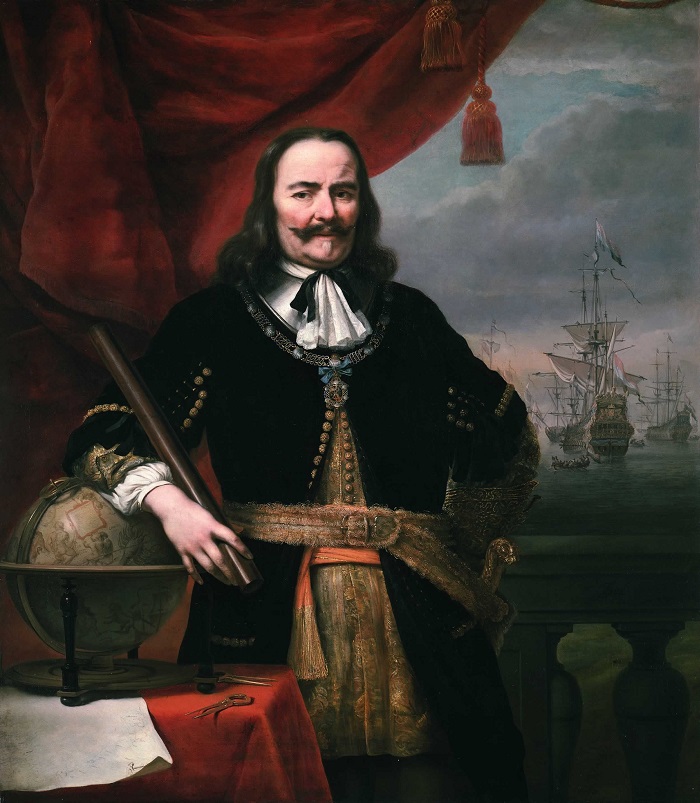 Most aficionados of the Age of Sail know a little something about Lord Nelson, however many know very little about his contemporary peers or those that came in the generations of great naval officers that preceded him.
Today I write about a man that is very well known by some and totally unknown to others. Naval historians acknowledge this man's place in history as one of the greatest admirals of all time even though he never intended to seek honor or glory for himself. Being a simple man that answered the call of his country however – glory found him. He never commissioned any portraits to be made of him before actions were ever fought like some others I can name – but a grateful nation commissioned paintings to recognize him nonetheless and to hold his achievements in the highest of esteem.
This man led a distinguished military career that spanned 55 years – and fought in considerably more actions than Nelson. Just like Nelson he was mortally wounded in battle. His leg was shot off by a French cannonball at the age of 69 years, yet he held on to life for almost another week before he finally succumbed to infection which took his life on this day – 29 April – in the year 1676.
Interestingly enough this Admiral fought at many of the same places as Nelson, but many years before.
The man I speak of is none other than the illustrious Admiral Michiel Adriaenszoon de Ruyter (24 March 1607 – 29 April 1676). DeRuyter was not even his real name. It was a name given him due to his multiple successful actions against the pirates and privateers of Dunkirk – thus "The Raider" – although he was commonly known by another name given by his men who were known to love and admire him: "Bestevaêr" old Dutch for "Grandfather".
Unlike so many of his contemporaries born of noble blood and destined for position, Michiel Adriaenszoon was born a commoner in the Dutch town of Flushing (Vlissingen) in 1607, the son of a beer porter.
He started his military career in 1622 in the Dutch Army and fought as a Musketeer in the regiments of Prince Maurice of Nassau against the Spanish during the Eighty Years War/(Thirty Years War). During the late 1620s/early 1630s he worked for Vlissingen merchants in Ireland and was known to speak Gaelic fluently. In 1633 he joined the whaling fleet as a navigator for the whaling vessel Groene Leeuw (Green Lion). He did this until 1635 when he joined the privateers defending Dutch convoys against the Dunkirkers. He finally got his own ship in 1637. He commanded two ships against the Dunkirkers, the Vlissengen and the Haze.
In 1641 he distinguished himself as the 3rd in command in his first fleet action against a combined fleet of Spaniards and Dunkirk pirates at Cape St. Vincent on 4 November 1641. The prize money earned against the Dunkirkers had made him a somewhat wealthy man and he bought a large and well armed merchantman – the Salamander. For the next 10 years he traded with Morocco and the Barbary States. He came to be well known with an excellent reputation during this time because of his numerous successful negotiations in buying the freedom of many European Christian captives/slaves (at his own expense) and their subsequent transportation back to their homes in Europe.
After his wife's death in 1650 and with two sons he decided to remarry and retire in 1651 buying a house in Vlissingen, however with the outbreak of the First Anglo-Dutch War (1652-54) he was called to service as a "Commodore"/squadron commander, and immediately proved his worth in defending the outbound Indies convoys against the English – winning the first battle of the war though significantly outnumbered – Battle of Plymouth against the English Vice-Admiral George Ayscue.
He continued as a squadron commander and fought in the actions at: Battle of Kentish Knock and the Battle of the Gabbard. The Dutch disaster with the death of Admiral Tromp and the defeat at the Battle of Scheveningen ended the war. DeRuyter was offered Tromp's position as supreme commander of the Confederate Fleet, but refused replying that he was not fit for the post and knowing that it would bring him into conflict with the senior Admirals Witte de With and Johan Evertsen.
In 1655-56 DeRuyter operated against the Barbary Pirates defending Dutch Mediterranean and Levant convoys against their depredations. Successfully capturing a number of infamous corsair captains, he was able to negotiate a treaty and peace agreement with Salé . In 1657 DeRuyter commanded the blockade of Lisbon, but was then ordered to assume command of a fleet bound for the Baltic.
DeRuyter served with distinction during the northern campaigns in the Baltic against the Swedes. (1657-61). On 08 November a bloody melee took place at the Battle of the Sound, which resulted in a Dutch victory, relieving Copenhagen. De Ruyter then took command of another expeditionary fleet and managed to liberate Nyborg in 1659. For this he was knighted by the Danish king Frederick III of Denmark. From 1661-64 he commanded the Mediterranean fleet and took part in convoy escort duty.
In 1664 clashes with the English began against the privateer raiders of Robert Holmes who attempted unsuccessfully to seize the homeward bound Dutch Smyrna merchant fleet. DeRuyter followed close on the famous raider's heels and retook the African forts and posts that Holmes had seized from the Dutch. With the outbreak of the Second Anglo-Dutch War imminent, DeRuyter sailed to the Caribbean to harass English possessions and shipping, destroying many English ships and temporarily seizing English colonies.
DeRuyter returned to Amsterdam with many prizes and to a hero's welcome. The disastrous Battle of Lowestoft had already been fought and lost and the supreme commander Van Wassenaer had been killed. DeRuyter was given command of the Dutch Confederate Fleet.
DeRuyter in his flagship De Zeven Provincien led the Dutch fleet to victory at the famous Four Days Battle (June 1666), the draw and narrow escape at the St James's Day Battle (August 1666) and the colossally successful Raid on the Medway 1667 which resulted in the destruction of the English fleet and the capture of the English flagship Royal Charles which was towed back to Amsterdam amidst cheering crowds. This ended the war.
DeRuyter again answered his country's call at the outbreak of the Third Anglo-Dutch War this time fighting against the combined fleets of France and England. His victories against superior numbers facing larger Anglo-French fleets at the Battles of Solebay (1672), the double Schooneveld (1673) and The Battle of the Texel (1673) destroyed both navies and armies and prevented planned invasions of the Netherlands. These battles are "textbook" and are preserved in dozens of larger than life paintings.
From 1673-74 DeRuyter in his famous flagship De Zeven Provincien again took the battle to the Caribbean where he attempted unsuccessfully to take Martinique and several English possessions. With disease spreading throughout the fleet, DeRuyter had to content himself with destroying most of the French Caribbean fleet and returned home to the Netherlands.
In 1676 he took command of a combined Dutch-Spanish fleet to assist the Spaniards in suppressing the Messina Revolt. While there he fought a French fleet under Admiral Duquesne at the Battle of Stromboli and finally on 22 April 1676, the Battle of Agosta, where he was fatally wounded when a cannonball hit him in the left leg. DeRuyter expired from an infection resulting from the amputation a week later.
Out of respect, King Louis XIV ordered that all French forts fire salutes as the convoy bearing DeRuyter's body home passed by.
On 18 March 1677 De Ruyter was given an elaborate state funeral. His body was buried in the Nieuwe Kerk (New Church) in Amsterdam. The place has become a tourist attraction and the tomb has been cordoned off with glass. Only descendant family members are allowed to enter. In an interesting anecdote, family members actually decided to enter the tomb area in 1948 (quote from wikepedia): De Ruyter family are granted unrestricted access to his grave, and De Ruyter's descendant stated in a 2007 issue of Dutch newspaper Het Parool that he visited the coffin privately in 1948 with his own grandfather, and they decided to lift the coffin's lid. The grandson reported being shocked with the sight and said: "it wasn't a pleasant sight. He (De Ruyter) was embalmed with great haste, and they didn't bother with his shot-off leg, they just dropped it in. It was just lying there. No, it wasn't pleasant, it was a shock actually ."
DeRuyter's legacy is significant. There are towns and streets named for him all over the world. The town of Debrecen in Hungary erected a statue of him for freeing 26 enslaved Hungarian ministers.
Military and naval scientists/tacticians have studied his battles for centuries. His codification of signals and use of line ahead tactics to break the enemy line to gain the weather gauge when numbers were unfavorable became the textbook maneuver of all subsequent age of sail fleet commanders. When you consider the sheer numbers of ships that took part in these actions (sometimes in the hundreds) the numbers in the battles of Nelson's time pale in comparison – and it is amazing to consider the order, discipline, and training required to control such large actions and produce successful results. This is particularly poignant when you consider that in most of De Ruyter's battles he was outnumbered.
Truly a great man and worthy of praise here at Buccaneer's Reef.
And now you know….. For more look at the wiki article here: Michiel de Ruyter
Modernknight1
MK

by modernknight1 with no comments yet.